Air pollution is causing around 467,000 premature deaths in Europe every year, the European Environment Agency (EEA) has warned.
People in urban areas are especially at risk, with around 85% exposed to fine particulate matter (PM2.5) at levels deemed harmful by the World Health Organization (WHO).
These particles are too small to see or smell, but have a devastating impact.
PM2.5 can cause or aggravate heart disease, asthma and lung cancer.
How big is the problem?
It's pretty bad. Within the European Union (EU), more than 430,000 people died prematurely due to PM2.5 in 2013, the most recent year with figures available.
According to the EEA's Air quality in Europe – 2016 report, the toxic gas nitrogen dioxide (NO2) – released by vehicles and central heating boilers – has an impact equivalent to 71,000 premature deaths a year.
Ground-level ozone (O3) is also killing people – an estimated 17,000 annually in the EU.
Unlike the protective ozone layer in the stratosphere, ground-level ozone is harmful, formed when emissions like NO2 react with other pollutants and "cook" in heat or sunlight.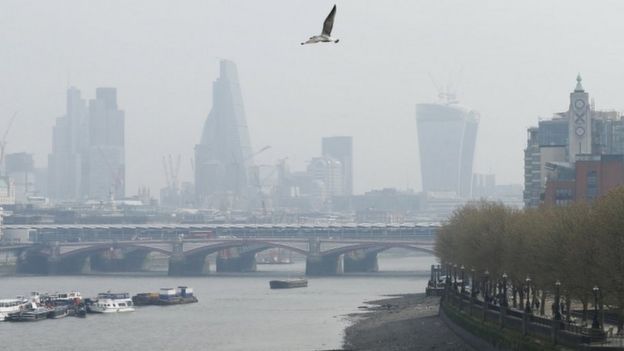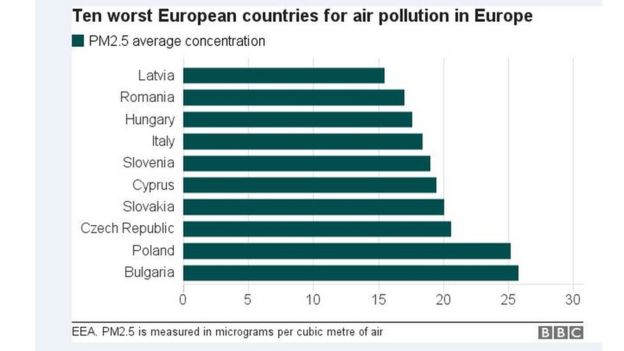 The European countries with the worst levels of PM2.5 are Bulgaria, Poland and the Czech Republic.
Nations like Poland where coal is a major source of electricity production tend to rank at the bottom of air quality measures, according to the EEA.
In 2013, Bulgaria provided four of the five worst European cities for high particulate matter. Costs to ill-health from coal power plants in the country are estimated to be up to €4.6bn ($4.8bn; £3.9bn) per year.
In the UK, air pollution overall costs the economy more than £20bn per year – just under 16% of the NHS's annual £116bn budget.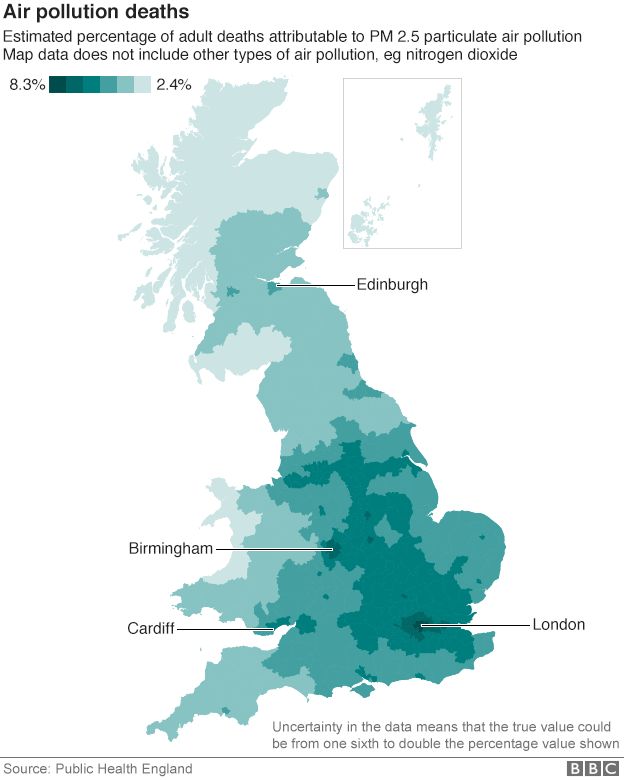 Technically, European air quality actually improved between 2000 and 2014. Levels of PM10 – another tiny pollutant particle – fell in 75% of the EEA's monitored locations.
PM2.5 concentrations also dropped on average between 2006 and 2014.
But EEA executive director Hans Bruyninckx says "unacceptable damage to human health and the environment" is still rife.
Outdoor air pollution contributes to about 40,000 early deaths a year in the UK, according to the Royal Colleges of Physicians and of Paediatrics and Child Health.
SO,you should buy a air purifier in your school/home/office to improve air quanlity.
AS for this situation.I'll introduce our company Olansi air purifier products.
This product has big CADR with 200m³/h·Low noise 18db.In addition,it has humidification function.